---
ScottHulse Holds 13th Annual Labor & Employment Law Seminar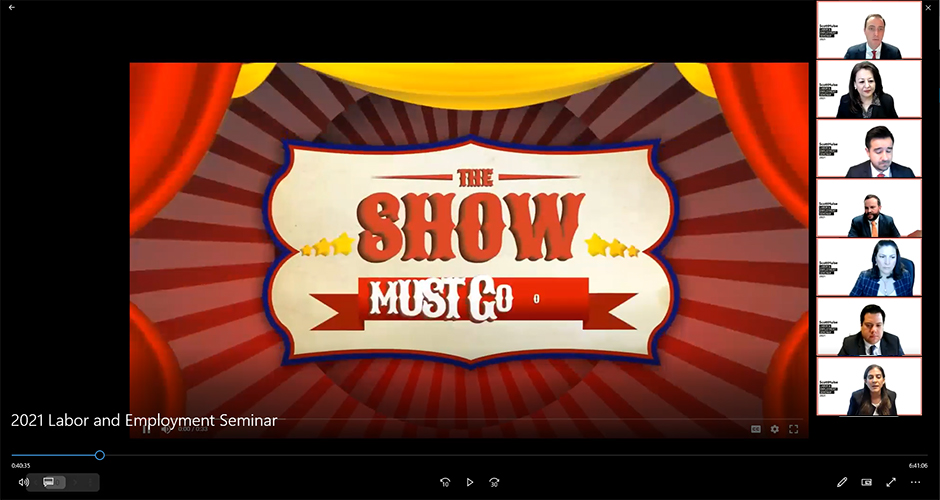 April 2, 2021
EL PASO, TX – ScottHulse, P.C., a full-service commercial law firm, held its 13th annual Labor and Employment Seminar: The Show Must Go On, on March 31, 2021. The annual event was held live through a virtual platform in which 220 local and regional business professionals attended.
The seminar, which is designed for human resource professionals, managers, supervisors, executives, business owners, and in-house legal counsel, covered case and legislative updates, immigration in the workplace, strategies to manage a remote workforce, best practices for governmental compliance audits, and employer rights and responsibilities. Speakers included Rosemary M. Marin, M. Blake Downey, James M. H. Feuille, Susanna Visconti, Stephen Venzor, Andrea Moran, and Luis F. Calvo. "This seminar was created as a community service, to guide local businesses with yearly updates in the area of labor and employment law. The pandemic has created a whole new set of challenges, which can create substantial liability for uninformed businesses," says Rosemary Marin, the chair of ScottHulse's Labor and Employment Section.
Seminar attendees earned certification credits for the Human Resource Certification Institute (HRCI), continuing legal education (CLE), and continuing professional education (CPE).
2021 Labor & Employment Law Seminar Presenters
Rosemary M. Marin
James M. H. Feuille
M. Blake Downey
Susanna Visconti
Stephen Venzor
Andrea Moran
Luis F. Calvo
###
ScottHulse is a full-service law firm with offices in El Paso and San Antonio, Texas, and Las Cruces, New Mexico. ScottHulse attorneys have represented individuals and major participants in the commercial and industrial sectors of the El Paso, Juarez, and Las Cruces Borderplex since 1889. Today, ScottHulse attorneys are involved in client and community initiatives that are transforming the Borderplex into the most dynamic commercial center in the Southwest and the epicenter of U.S./Mexico trade.